IT Monitoring & TCO
Open source or off-the-shelf software? Finding the best option for your organization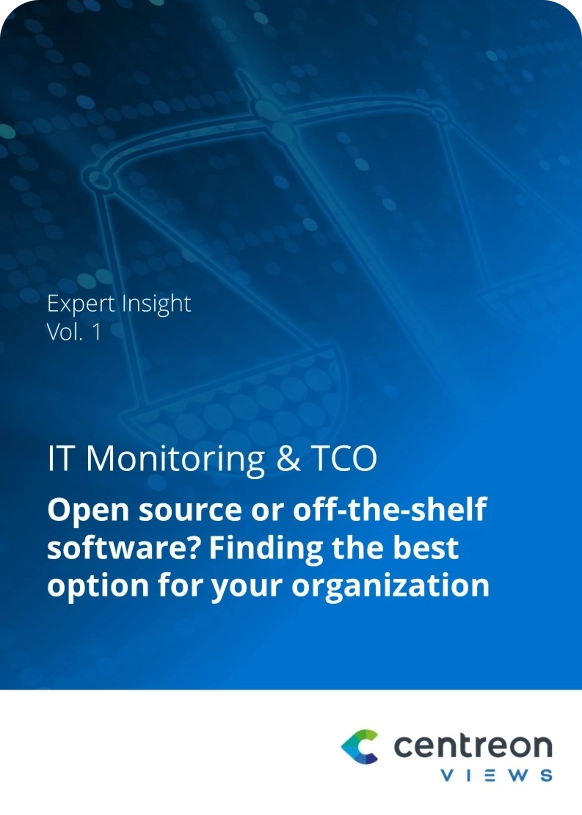 IT monitoring solutions are divided into two acquisition models, open source and commercial off-the-shelf (COTS).

But when and how to choose one over the other?

When it comes to choosing an IT monitoring solution, a domain in which the open source model is very present, determining the right choice criteria can be complex. At Centreon, we believe TCO to be one of the most important.

This Expert Insight takes a closer look at the impact of the acquisition model (open source or COTS) on a monitoring solution's TCO to help decision makers and IT managers select the IT monitoring software acquisition model that will provide the most value to their organization.
Download the document for free by filling in this form

This read will help you to:
Better understand the concept of TCO applied to IT monitoring tools
Identify the important criteria to select the best option for your project
Better understant the notion of TCO versus usage value
Find an alternative model that provide the best value
4 key insights in this read
TCO is a crucial criterion for choosing a monitoring solution
Open source is a valuable innovation driver
Commercial off-the-shelf solutions (COTS) enable optimization and value creation
There is a third way, combining benefits from the open source and COTS models
IT Monitoring & TCO
Open source or off-the-shelf software?
Finding the best option for your organization